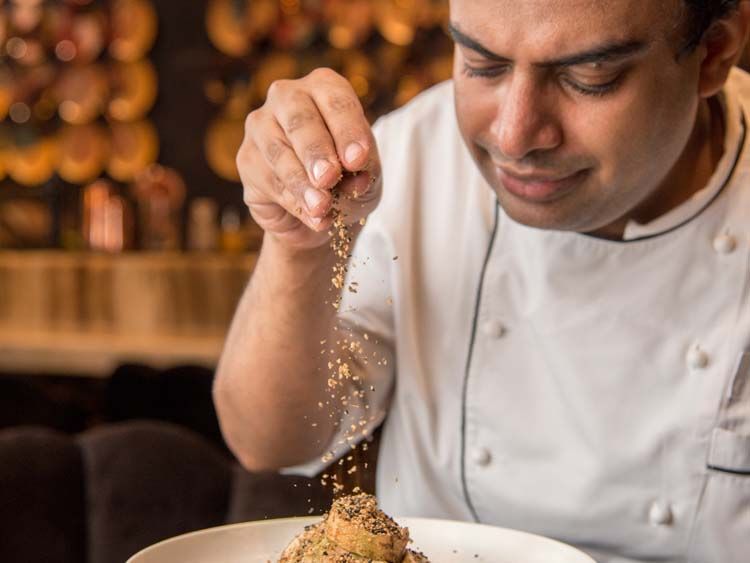 CHEF RUEBEN AT SETTE MARA
Sette Mara, the newest dining venue at The St. Regis Mumbai introduces Chef Reuben as the culinary lead. Chef Reuben, with his experience at varied international, renowned venues has curated a menu reminiscent of the vibrant middle eastern flavours.
Having grown up in the busy metropolis of Mumbai city, the charming Chef Reuben developed his interest in food and cuisine during his early days. He dabbled with ingredients in his mother's kitchen, whipping up surprises for his family and decided to pursue his passion. He soon enrolled himself in The Institute of Hotel Management, Mumbai and joined a leading Indian luxury chain of hotels for a few years as he honed his skills. His thirst for further specialization propelled him to pursue a degree at The Culinary Institute of America, one of the most prestigious international institutes.
Discovering the deliciousness of middle eastern cuisine happened a little bit later in his life. His ability to master multiple cuisines like Indian, French and Greek made him the perfect culinary leader at Sette Mara. Having worked at some of the leading Michelin Star venues in New York, under celebrity chefs such as Daniel Boulud, Gabriel Kreuther & Floyd Cardoz, his last Assignment was at a Greek venue, Estiatorio Milos. Here Chef Reuben discovered the relaxed and community style dining during his tenure at the Greek dining venue He was intrigued and fascinated with the burst of flavours so characteristic of that region. He carefully selected the dishes on the menu at Sette Mara blending the deep nuances of aromatic spices and wholesome ingredients originating from The Levant.
Sette Mara's menu with 'The Cold Kitchen' and 'The Hot Kitchen', opens with appetizers of freshly tossed salads and tempting Mezzes that are crafted with a blend of contemporary and traditional recipes. Cold and Hot Mezzes like Hummus Beiruti, Talatouri, Muhammarah, Garlic Labneh, Kataifi Prawns and Lamb and Bell Pepper Souvlaki begin your journey at Sette Mara. 'The Large Plates' with dishes like Israeli Cous Cous Risotto, Eggplant & Sweet Potato Moussaka, Salt Baked Whole Seabass, Braised Chicken Maqlouba and Dijaj Bil Sanieh are brought fragrant and steaming hot to the table. The Mangal Grill, a traditional middle Eastern charcoal grill, holds pride of place in the menu with a unique style of 'grilling to perfection' mastered by Chef Reuben and his team. The soft and fluffy Georgian bread under the 'The Khachapuri Bar' is aromatic and served freshly baked from the 'Tone', a traditional stone oven. The menu closes with luscious desserts and house made ice-creams selections.
When not in the kitchens of Sette Mara, you will see the gentle and soft-spoken, Chef Reuben engaging with his guests and regaling them with his stories from across the seas. During his downtime, he likes catching football matches, pouring over his extensive stamp collection or simply cooking with his mother where his love for cooking first took shape.
The latest addition to The St Regis Mumbai is where chef Ruben makes sure Middle Eastern cuisine finds its way to your plate and palate. You'll find yourself seated amid vibrant shades of blue, with a navigational constellation compass installation suspended over the dining area. Taking inspiration from the Levant, some of the cold and hot mezze include ​​muhammara, garlic labneh, kataifi prawns and lamb and bell pepper souvlaki. But the highlight here is the mangal grill, a traditional charcoal grill from the region. As you relish your meal, be sure to try their selection of freshly concocted cocktails featuring the oak barrel-aged negroni, Turkish old fashioned and the crystal truffle negroni.

Conde Nast Traveller